Setting up the chapel of rest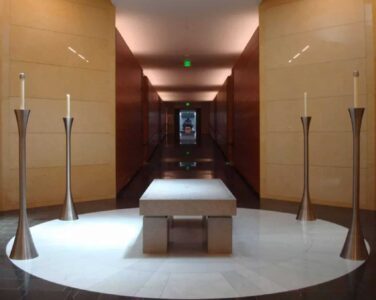 We set up the chapel of rest in Milan and the surrounding area.
Chapels of rest may be set up in homes, in healthcare facilities or nursing homes, in funeral parlours or in public or private rooms made available for the purpose.
Our decorators will prepare the chapel of rest, taking care of every detail to offer a welcoming and calm environment, suitable for hosting relatives and friends. Our task is to create an atmosphere that is respectful of the traditions, beliefs and feelings of the family.
Our funeral directors have a wide selection of funeral furnishings to decorate the chapel of rest. We can provide carpets, candlesticks, vases, lecterns, easels, and any other furnishing element, as well as crucifixes or appropriate alternatives for any other religious or secular request.
The chapel of rest is a remembrance room where you can visit your loved one, if and when you so desire, in the period between death and final burial or cremation. Relatives and friends can visit the chapel of rest, alone or together, to pray, reflect and pay their last respects to the loved one.