Coffin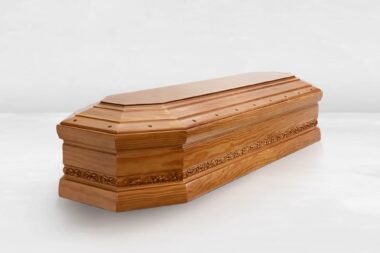 We will guide you in the choice and personalisation of the coffin, depending on your beliefs, the type of burial chosen (cremation, entombment or interment), and the expense you would like to incur.
The coffin is a wooden container that is used to hold, transport and bury the deceased. Different coffins are recommended on the basis of the function they are designed to perform: a specific model of coffin is recommended for each type of laying to rest.
Below we list the different types of coffins available, and describe their main characteristics.
Coffin for cremation and interment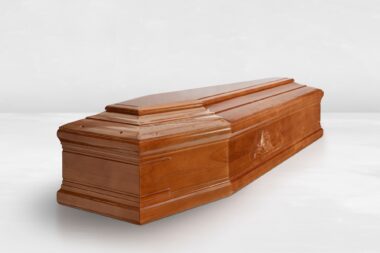 Interment (burial underground) and cremation require coffins that have not been built to last: we recommend a simple softwood coffin. This is because the period of time these coffins are expected to endure varies from a few days, in the case of cremation, to about ten years, in the case of interment.
The softwood used to make coffins for cremation and interment is derived from conifers, such as pine trees. The abundance of conifers in Italy helps to keep costs to a minimum.
Coffins for cremation and burial can be plain or decorated with religious or secular images. The usual colours for this type of coffin range from yellow to reddish.
In the case of burial underground, it is also possible to opt for completely biocompatible coffins, free of any material that could damage the soil and nature.
Coffin for entombment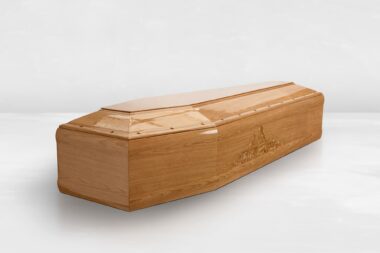 Coffins for entombment (burial in a niche) must be resistant and well made. It is therefore recommended to use coffins made of hardwoods, which offer greater endurance over time. These coffins will be expected to endure for time periods ranging from a minimum of 40 years, in the case of entombment in the municipal columbarium, to over 100 years, in the case of entombment in a private tomb.
The hardwood used to construct these coffins derives from lime, mahogany, ash, walnut and oak trees.
These coffins can also be plain or decorated with religious or secular images. The standard colours for plain finishes for this type of coffin are brown-red, brown-yellowish, light brown, dark brown, ivory or cream.
The internal padding, which makes the inside of the coffin similar to a bed, can be made of synthetic or natural fibres. For cremation it is preferable to use synthetic padding, while for interment and entombment a choice of linen or cotton padding is recommended.
Entombment coffins also have an internal zinc coating for greater protection of the body. The zinc interior is sealed by our staff a few moments before the final closure of the coffin.
All our coffins are equipped with internal safety devices, in accordance with Italian law.
Coffins
We have a wide selection of coffins, for every type of burial and expense plan: don't hesitate to CALL US for further information: